米科诺斯岛上没有多少住宅能欣赏到爱琴海神圣的德洛斯岛上一览无余的落日景色,这里的地理位置优越,能够通过建造"形式跟随情感而不是功能"的别墅来抓住机遇。
There are not many residences on Mykonos that can enjoy the unobstructed sunset view on the sacred island of Delos in the Aegean Sea. The location here is superior, and the opportunity can be seized by building villas that "form follows emotion rather than function".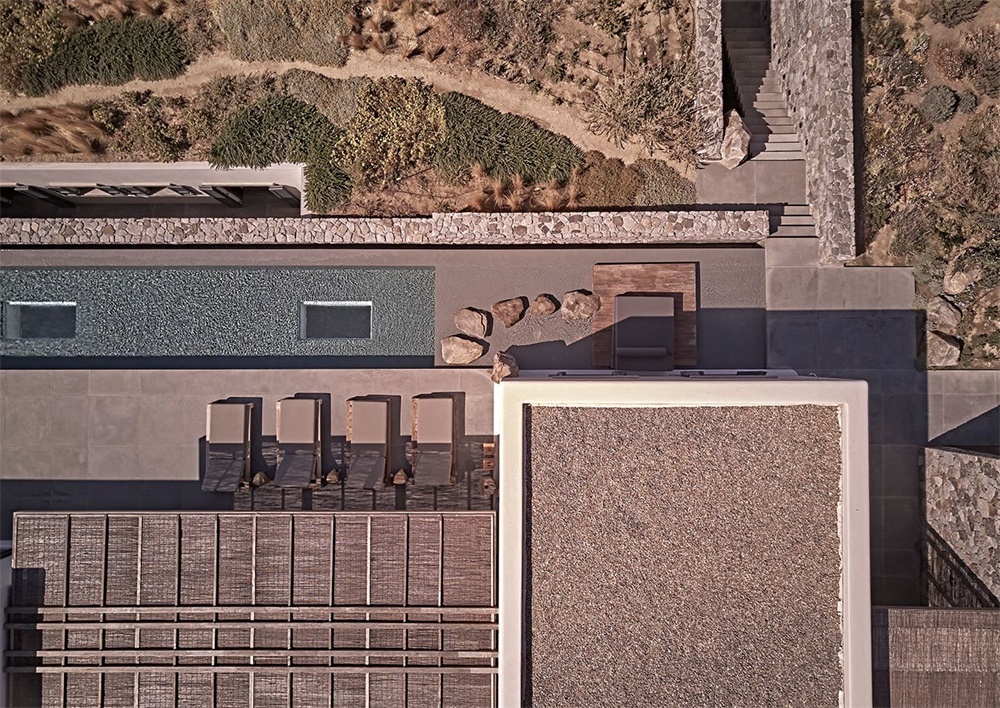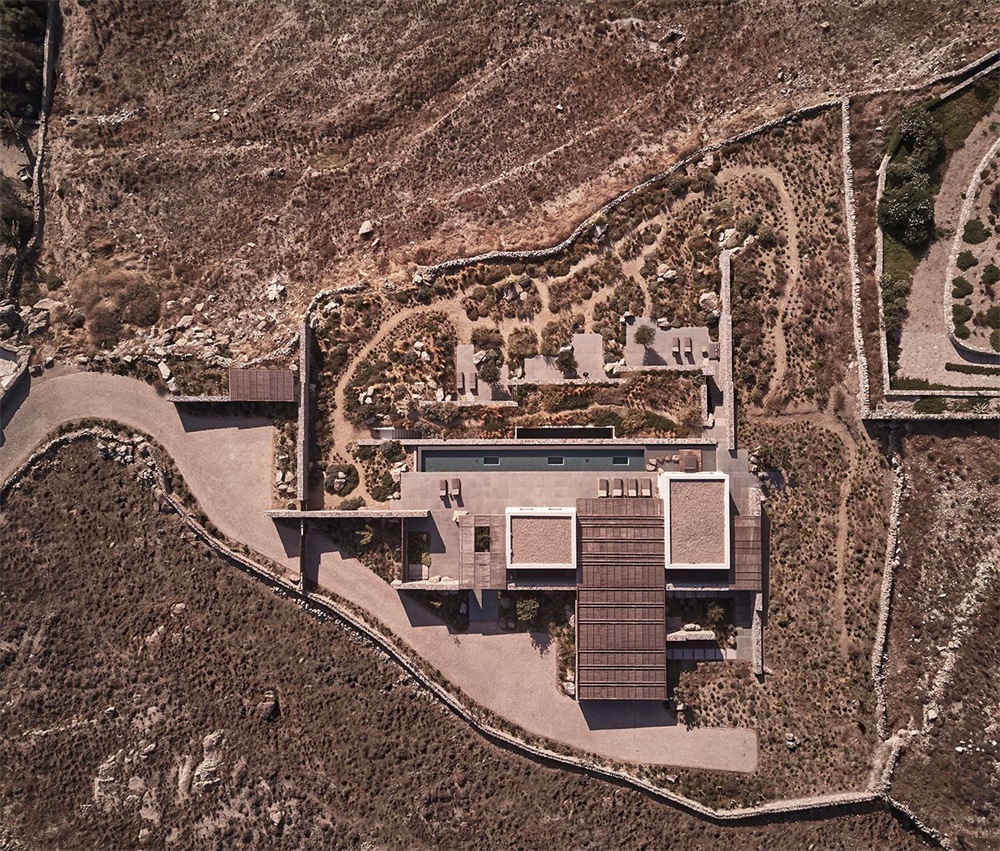 这套六居室的房屋围绕着一个户外居住区展开,该居住区可以全天使用,以真正的悠闲夏季生活为精神。同时,将传统材料与斯堪的纳维亚极简主义的美学相结合,通过现代视角唤起该岛的遗产记忆。
Inspired by the humble complexity of the Cycladic vernacular, the 6-bedroom house unfolds around an outdoors living area that can be used throughout the day in the true spirit of laid-back summer living. At the same time, the use of traditional materials such as lime-wash, stone and wood in combination with an aesthetic of Scandinavian minimalism evokes the island's heritage through a modern lens.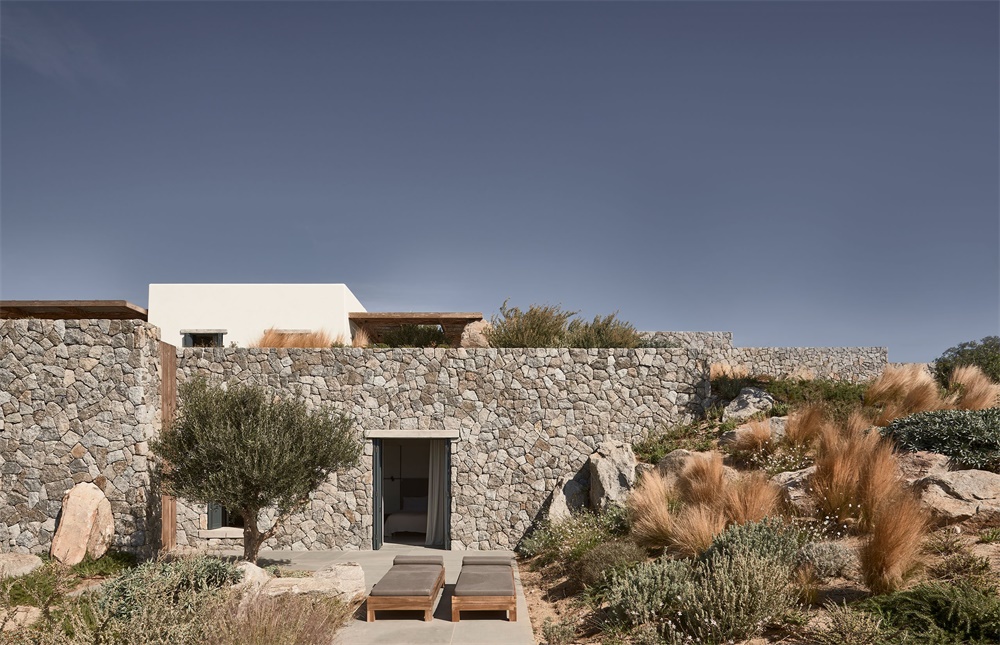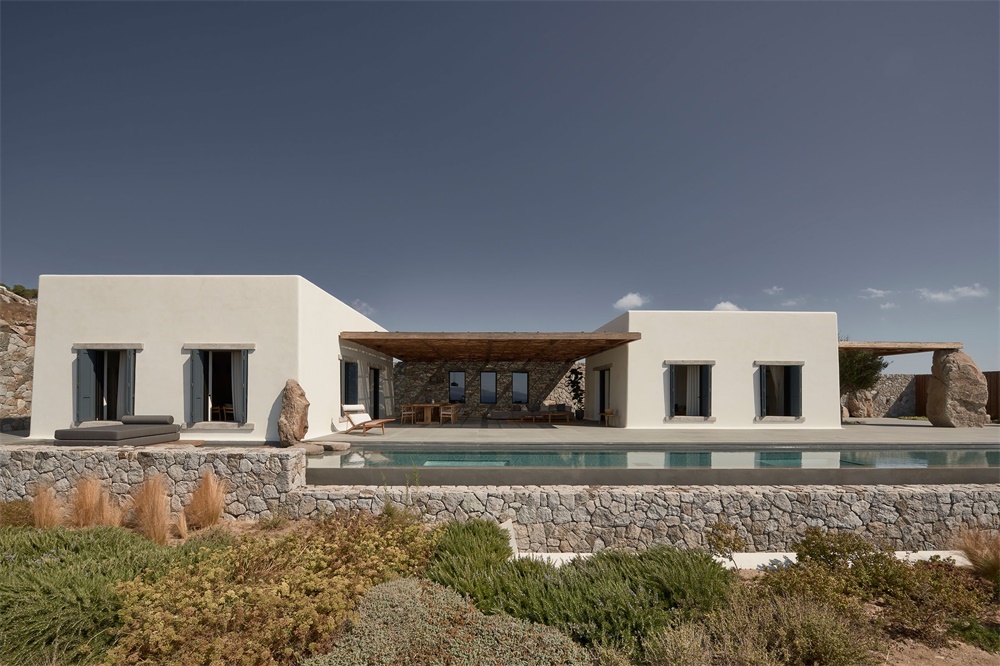 这座房子完全隐藏在道路上,通过对两小块粉刷成白色的体积进行了设计,以减少对自然景观的影响,这些体积由凉棚连接,而凉棚位于山坡上的裙楼之上,从现场挖出的石头就建在上面。这种配置将较低层的私人住宅区与顶部的公共区域分隔开来,并确保两个区域对爱琴海的视野都一览无余。在大型凉棚的阴影下,房屋中心的户外起居区两侧是起居室和厨房,它们的大开口在内部和外部之间实现了无缝过渡。
Hidden entirely from the road, the house was designed to have a minimal impact on the natural landscape enabled through two small whitewashed volumes connected by a chestnut pergola sitting atop a podium built into the hillside with stones dug from the site. This configuration separates the private quarters on the lower level with the communal areas on top, and ensures that both zones have unobstructed views towards the sea. Shaded by the large pergola, the outdoors living area at the heart of the house is flanked by the living room and kitchen volumes whose large openings create a seamless transition between inside and outside. A few steps away, the pool beckons, while the landscaped gardens with the sea looming beyond stretch out below.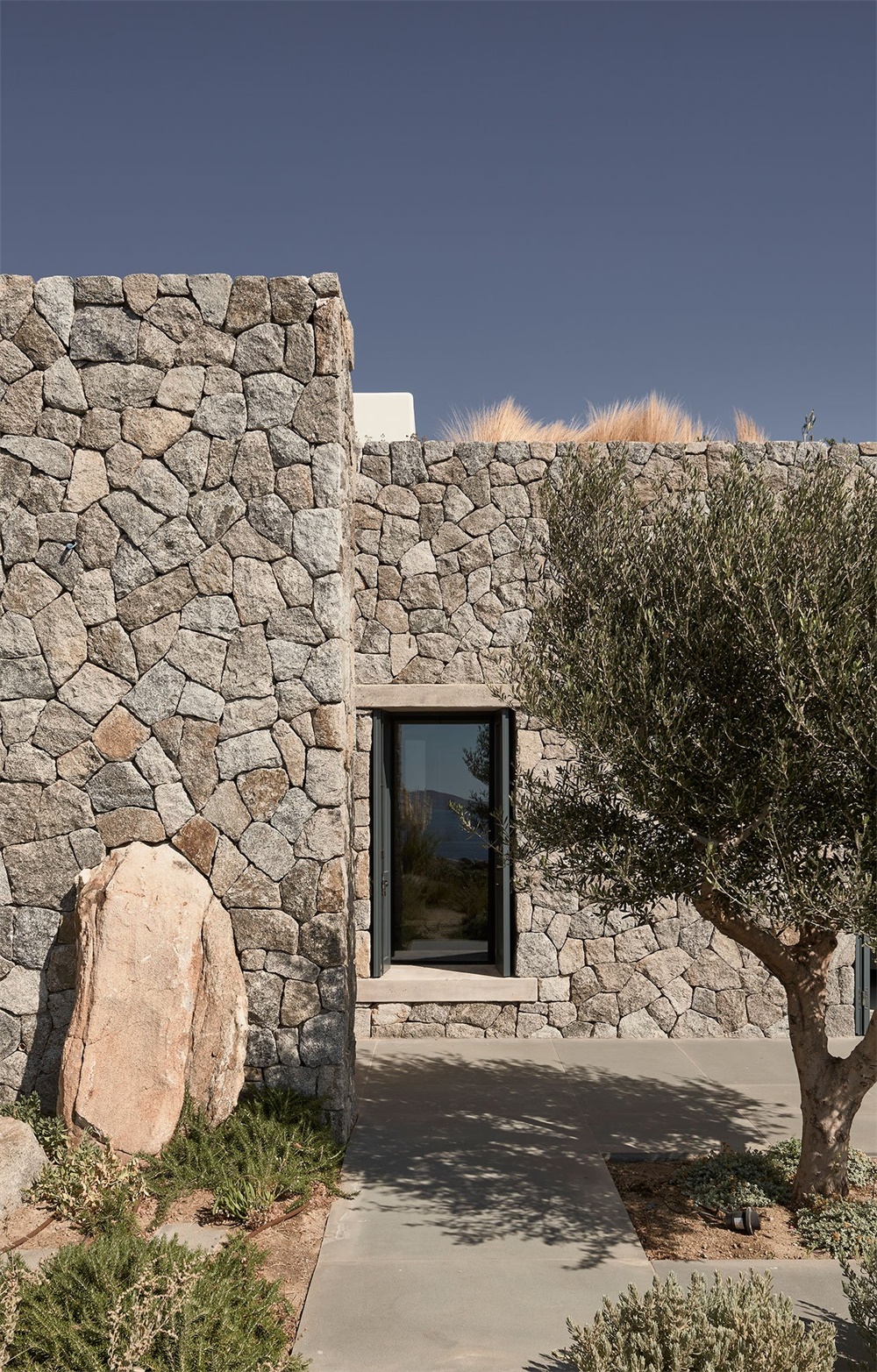 手工建造的石墙,光滑的圆形粉刷和竹衬里的凉棚结构之间的并置与周围的自然景观相呼应,同时使房屋具有乡土真实性,却不影响其现代性氛围。内部使用天然材料,将简洁线条,无框门和较少修剪细节的简约美学与柔和的深色和深色木材饰面相结合。
The juxtaposition between the rugged texture of the hand-built stone walls, the smooth, round-edged whitewashed volumes and the bamboo-lined, chestnut pergola structure echo the surrounding natural landscape while imbuing the house with a vernacular authenticity without however impinging on its contemporary vibe. The use of natural materials is carried on in the interior, where a minimalist aesthetic of clean lines, frameless doors and trim less details is combined with a subdued palette of lighter and darker timber finishes.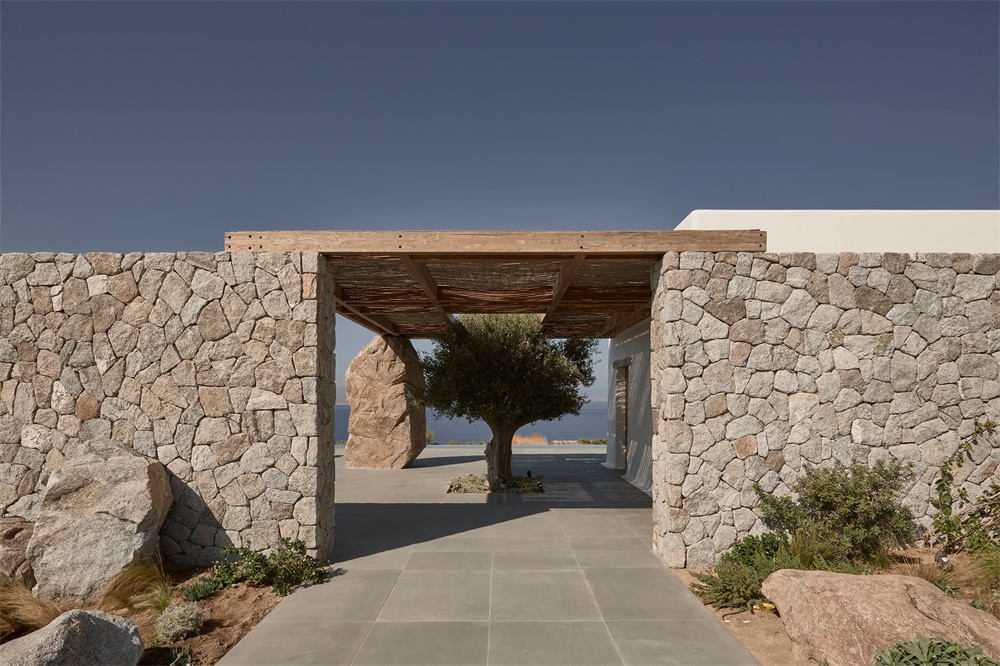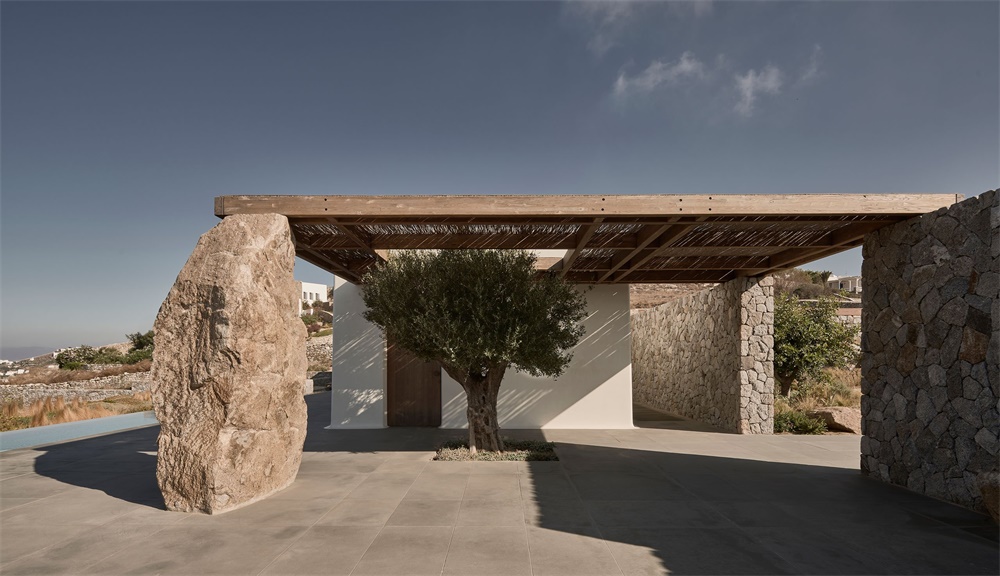 虽然结果可以说是斯堪的纳维亚设计满足基克拉迪式风格的简约,但最重要的是,无论风格如何,但房屋建筑朴素的优美性"鼓励与家人,朋友的思想联系以及在自然中和平共处的自由"。
While the result could be described as Scandinavian design meets Cycladic simplicity, more than anything else, and irrespective of stylistic references, the unassuming gracefulness of the house's architecture "encourages mindful connection with family, friends and the freedom to exist peacefully in nature".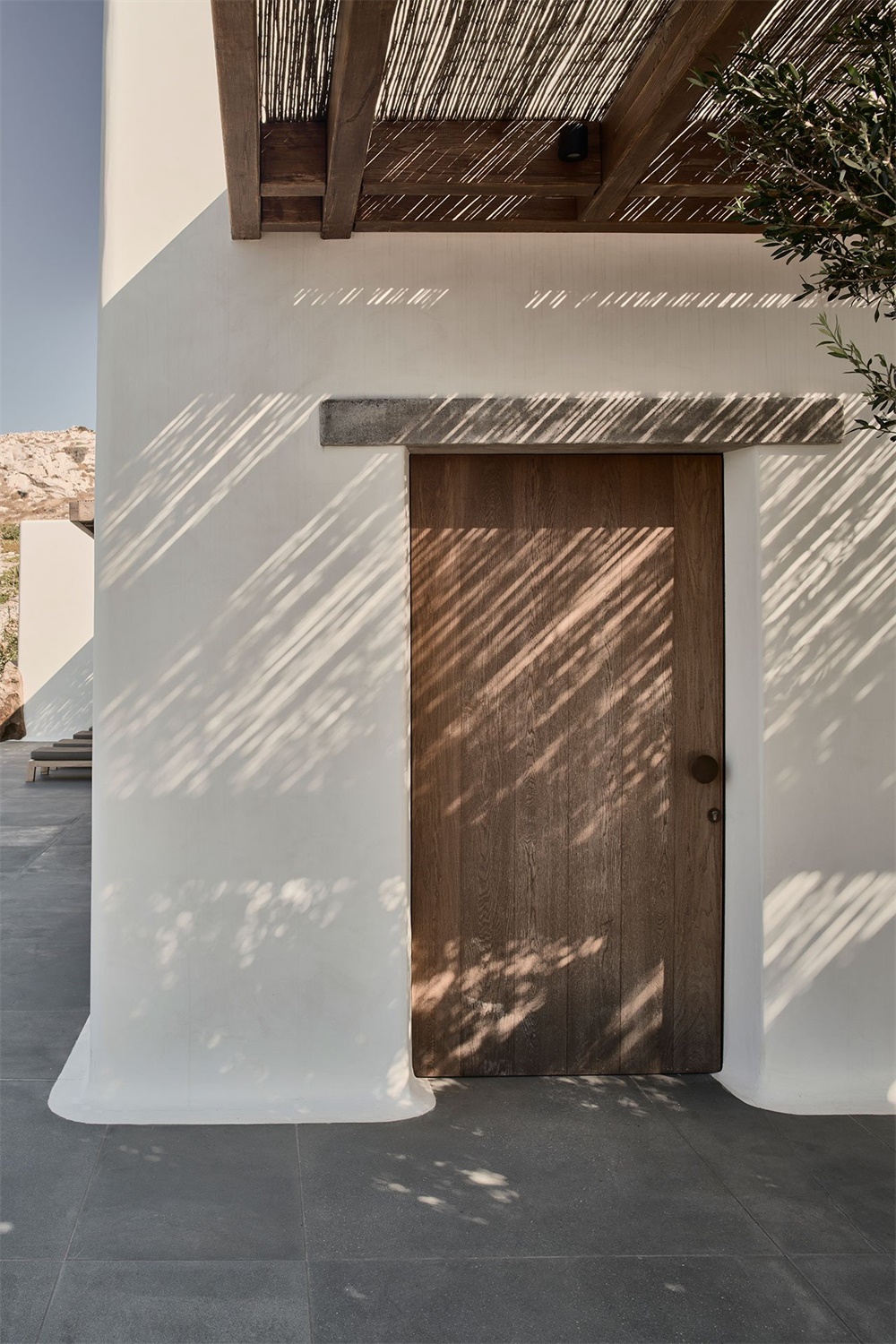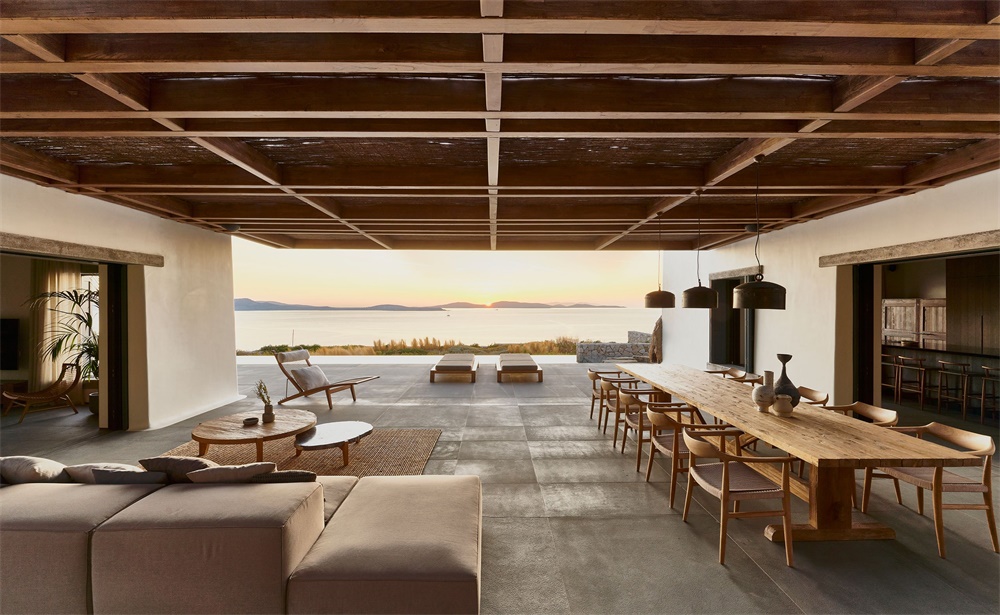 12